I was in need of a card that I had to mail rather quickly. So, I grabbed what was on top and flew it together. This is what came about.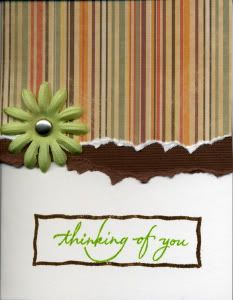 Credits: Stripe paper - Michelle Coleman of ScrapArtist; Brown and White CS; Bazzil Flower; Stamps - Clearly Wordsworth
This was a 2 minute miracle! So after I thought for a bit, I thought this would make a fun challenge. You set your clock for 2 minutes and go. You don't worry about the "perfect" embellishment; you just put it together. I literally grabbed the paper on top and found CS to match. I quickly put a coordinating flower. Then it was stamp and done. I admit that this card will not win any awards, but it will give the receiver a nice smile.
I would love to see your 2-Minute Miracle . . .