I have tried to post cricut projects every Monday . . . not with great success . . . but I try to keep that day dedicated to anything I make with my cricut. Today's share is one of my all time favorite projects. I made some birthday invites for my niece who was having a bunny birthday party. I used the Design Studio (I only have the demo at the moment) to make the bunny.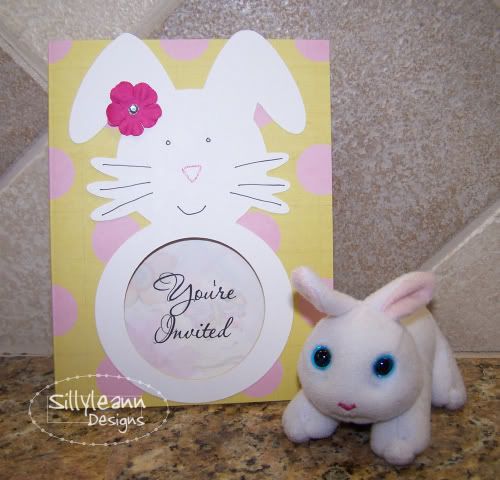 Contents: Rabbit - Cut from the Cricut Design Studio all from the George Cartridge using my Cricut; Card base - cut from the same; Pens - Gel pen and Making Memories; Flower - Portfolia; Jewel - Dollar Store; Pattern paper - digital paper from Polka Dot Potato
Contents: (All Digitally Created and Printed) Scallop border - SillyLeAnn Designs; Fonts - ???? (will try to locate the names) Background paper - two papers blended together from the Potato Hunt at Polka Dot Potato
I was pleased with how they turned out overall. I hope she really enjoyed them as well.