I participated in an envelope swap this month. The object is to stuff a one stamp envelope with as much stuff as possible without going over. This month the theme of the envie was "LOVE".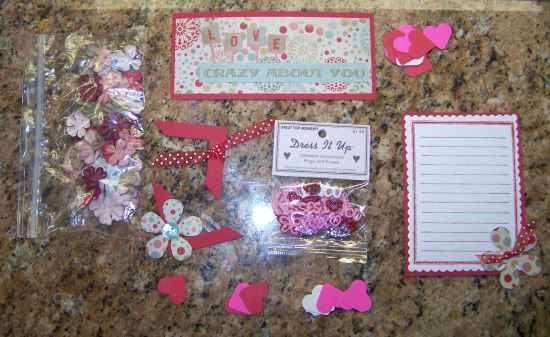 This was super fun to put together. All the patterned paper is by Cosmo Cricket and all the solid red is from bazzil. The title box is CC title, CC alpha, and Circut sign post from George Cart. The decorated corners have a My Minds Eye button and Hobby Lobby Ribbon. The journal box uses a stamp from Stampendous stamp, Hobby Lobby ribbon, and fiskars scallop scissors. I also added a set of Love - Dress it Ups, some coordinating Prima's (you can never have too many of these), and some heart punchies.
I hope whoever got this enjoys it. I had a great time preparing this envie.
I haven't posted much due to illness. Yuck! I am happy to report that we are officially on the up and up! Yeah! I haven't been in the crafty mood lately. I can hear the *gasps*. But, I haven't been able to get into my craft room in a while either, so hopefully I will get set down and it will all come back to me. :)
Until next time . . .