I was sick again! I am really starting to get disturbed at my body. However, I didn't want to disappoint since Cricut Monday is about the only posts lately. :) I hope you enjoy.
I made an 8x8 2 page scrapbook spread. I haven't scrapbooked (with paper) in a very long time. This was fun and got me in the mood to do some more. I think I will be selling this one. So stay tuned. I am not crazy about the full photo as it doesn't show off the colors and glitter very well.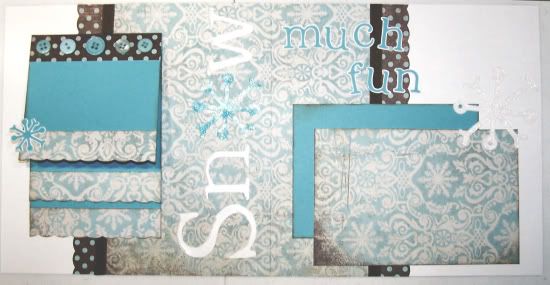 The mini book on the left can be used for hidden photos or journaling. See the detailed photos below how it opens flat. The right side has a place for 1 4x6 photo (no cropping needed!!!). Thanks for looking this was tons of fun.
Contents: Paper - Basic Grey; Ribbon - from stock; Alpha - cut from Doodle Type using my Cricut; Snowflakes - cut from Doodle Type using my cricut; buttons - MME; glitter - Doodlebug Design; Ink - Stampablities in Walnut -- I have sealed all the glitter so that is doesn't get all over the page. Also, I have temporarily adhered the corner of the white glitter snowflake. It is easily removed to slip the photo under.
Details and up close: