I really am going to try to add a Cricut project every Monday. I have just loved owning my bug. It is such a great tool that I know will grow more valuable in time. I am late posting because my project today is somewhat comprehensive and took a little longer than usual to make.
I made a baby mini album as a gift for a friend's upcoming baby. She is of course having a boy. I thought this would make a cute announcement type mini album. I am going to put his name on the front. Inside is room for photo and I stamped places to fill in date, weight, and length.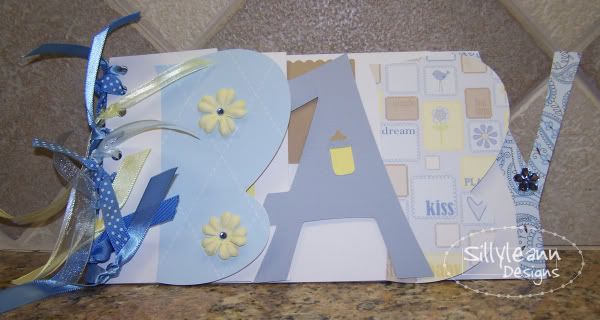 Contents: Paper - Paper Studio and Heidi Grace; Ribbon - from my stock the polka dots is American Crafts; Flowers - prima; Bling flower - Paper Studio; Baby Bottle - cut using my Cricut (Doodle Charms Cartridge); Album made with card stock cut with my Cricut using the Design Studio and George Cartridge
I hope she enjoys this as I hope you do to. Thanks for looking!