August was a month full of birthday's and surprises for everyone. And September was no different. I was up to my eye balls in birthdays. Oh, and October doesn't bring any relief. We will have celebrated 10 birthdays just in my immediate family only (also including my DH's family). So, I have a TON of birthday cards to share. :) Fun for you . . . okay and honestly totally fun for me. I throughly enjoy giving gifts. I joke that if I were a millionaire, I would start spending my money and what I could do for others. It is the best feeling to give someone a gift. I am back to making cards and getting ready for the Christmas holidays. I will be getting my Christmas card samples complete by mid-October. Yeah!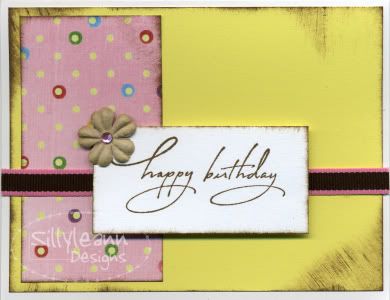 I will be honest. I really don't know where most of the stuff on this card came from. :) I know the yellow paper was from Hobby Lobby and the flower is prima.
I made a couple of birthday cards just like this one that I will share off and on. I hope your fall is starting off GREAT!