Yes, you read that right! I have just completed my very own set of stamps. I have made so many new ones of all sorts of styles and occasions. I cannot wait to share them all with you. I have been working on these for so long. I finally jumped in with both feet and had them made. I couldn't be happier with the results. I have a hard time finding the right sentiments in the right size. It was so good to custom create my own.
The first custom stamp I want to reveal is a wedding stamp. I think it is so hard to find good sentiments for Wedding cards. I like something versatile that can be used for a shower and wedding day card. I love how my "Wishing You Happily Ever After" came out. I have never seen anything like this before. So, enjoy!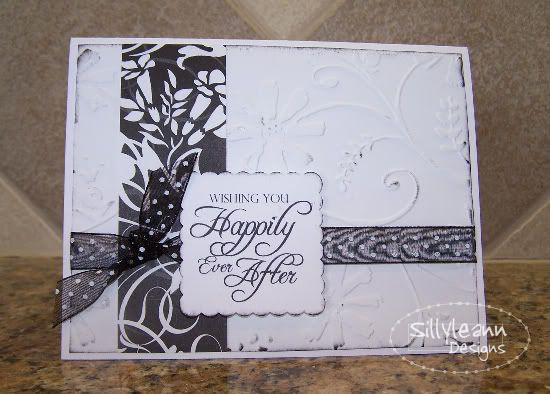 Contents: Paperned Paper - ??; Embossing is by my Cuttlebug; Marvy Uchida Scallop Square Punch; Ribbon - Craft Supply; Stamp - Happily Ever After by SillyLeAnn Designs
Thanks for looking! I would love to know what you think of my new endeavor!